Coach Tour of Derry (£50) / Belfast (£70)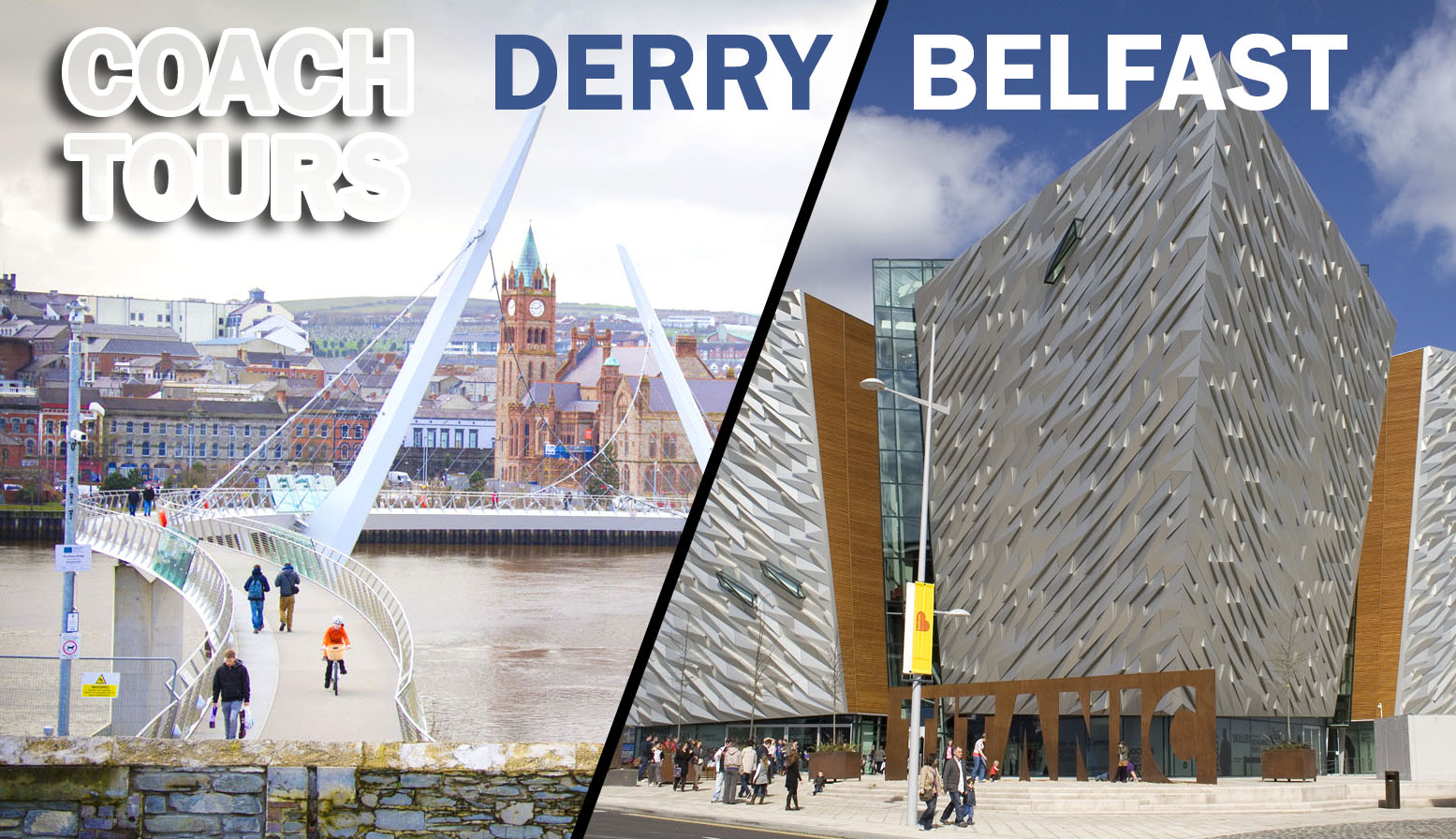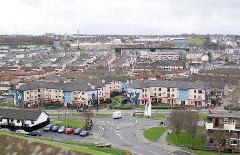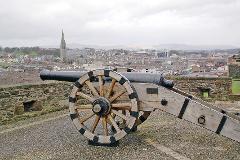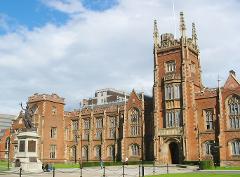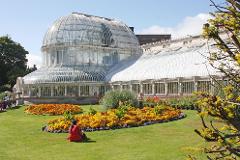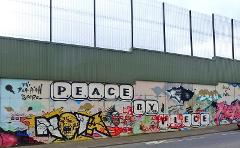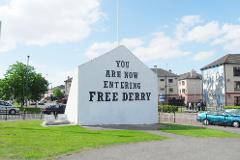 Duration: 2 Hours (approx.)
Product code: PI1KAQ
For more information:
Telephone Michael: (028) 7136 1311 or 077 4317 5709
E-mail: derrybluebadgeguide@hotmail.com
Derry Coach Tour
Our coach tours usually begin at the tourist information centre (free parking for coaches) before proceeding across the Craigavon bridge via Irish Street to Iskaheen View, one of the greatest viewing points in Ireland. The view includes the city cemetery, the former St Columb's College building, the City Walls and centre, River Foyle, Peace Bridge and the hills of Donegal and is a highlight for all our visiting groups. We then continue past the Workhouse, loyalist murals and Ebrington barracks to the Foyle Bridge with its magnificent view of the River Foyle whilst crossing. Passing the site of the former shipyard we explain the history of shipbuilding and view the emigrant statues at the former embarcation point for those leaving Derry during the famine. Passing the university, former shirt factories and council offices we return to the city centre area via the Georgian conservation area and Bogside murals/monuments before driving through the walled city to return to the tourist information centre. The tour covers all aspects of the city's history including: Early Christianity, Plantation, Siege, Emigration, WWII, Industrial Heritage and the Conflict / Peace Process.
Belfast Coach Tour
The coach tour incorporates all the major areas of Belfast. We firstly take in the university quarter including the famous Queens University campus (including its world famous alumni like Seamus Heaney) and the Botanic Gardens. We then move down Great Victoria Street, the home of the Europa – the worlds most bombed hotel-to also view the Crown bar and the Grand Opera House. We then visit the Falls, the heartland of republicanism in Belfast where a whole range of political murals and monuments are explained. We then cross the peaceline into the loyalist Shankill Road where more images of the conflict can be viewed and there will also be an opportunity to write your name and message of hope on the peacewall.
Moving past the famous Crumlin Road Prison and courthouse, and passing Clifton Street Workhouse, St Anne's Cathedral and the Albert Clock, we eventually arrive at Queens island, site of the construction of the ill-fated Titanic to see where the ship was built and to photograph the iconic new Titanic Visitor Centre. Hear the tragic stories of Belfast's famous sporting sons George Best and Alex Higgins and see the home of Shorts, one of the world's first plane manufacturers. View the famous Stormont buildings, home of the north's new parliament and visit the loyalist murals on the Newtonards Road where we also hear about Van Morrison and some of the city's other famous musical talent. Our tour covers all aspects of Belfast's history including early history, the plantation, emigration, industrial heritage (including shipbuilding and the linen industry), World War II and the modern conflict and peace process.